Personalized Virtual Card
Greetings-Discount offers you to create personalized virtual cards with your texts and photos and send them by email to one or more recipients. As for your invitation cards, you will be able to receive and follow attendance confirmations.
Offer a personalized, virtual card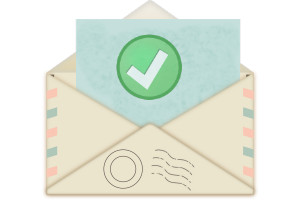 Choose from our thousands of s, your birthday card, announcement (marriage, birth, baptism, communion) or our thank you cards. Personalize it with your own texts and photos. In addition to offering to download the files to print, Greetings-Discount offers you the possibility to send a virtual card to one or more recipients.
The recipient of your card will receive an email inviting them to view a nice animation of your card: They will discover an envelope to open, and then your card will come out of the envelope. In addition, he will be able to print this card in the quality you ordered, to keep it as a memory.
You have the option to choose the color of the envelope as well as the background color of the animation.
Below is an example of an animation.
Ask for and manage attendance confirmations
For your announcements and invitations, Greetings-Discount offers you the option to request a confirmation of presence to the various recipients.
When viewing the animation of your invitation, your guests will have the opportunity to confirm or not their presence at your event.
You will be able to check on our website the status of your invitations: you will quickly know if your invitations have been sent, opened and the presence confirmed.
Example of animation

Here is an example of an animation of a virtual card made with Greetings-Discount :




Example of virtual card tracking
Here's an example of tracking attendance confirmations, where you'll be able to view mismail, view cards, and responses to attendance confirmation.