Free greeting and announcement cards
Thousands of free cards
Greetings-Discount offers thousands of free greeting cards to print at home. Whether it's birthday cards, year-end greeting cards, wedding cards, birth labels or labels you'll find your happiness for every occasion.
These cards are offered to you with an eco quality (72 dpi), which will allow you to print them or display them on your social networks. We provide you with a PDF file containing your card with the right print dimensions. A Greetings-discount logo will be present on your creation.
We offer you to get better print quality, up to 4 times finer, via our credit system. For only $0.5(*), you can get a more readable card with no Greetings Discount logo present. In addition to a PDF file, you'll get an image file (JPG) so you can insert your creation into other documents, easily share it on social networks, or print it in different dimensions. For a certain card format (labels, half-letter and 3.6"x7.6"), we will also provide you with a PDF in Letter format, with your creation automatically copied to fill the page.
* Price based on the credit pack you choose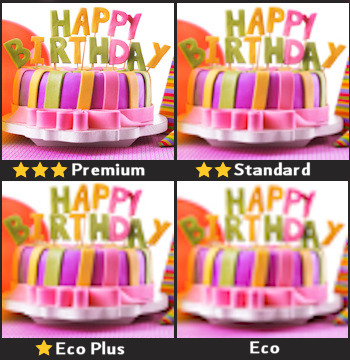 Sample print based on resolution
Example of files provided
Below is an example of a birthday invitation card (in 3.6"x76" cm format) made via our website. Don't hesitate to print them out to see the quality of our cards.
Example of file provided with a free card:
Eco quality (72 dpi)

Example of files provided with a premium quality card:
Premuim quality (300 dpi)



In this example, the card was made with the mailing option that allows you to get a personalized card for each guest.
The best free cards

Find a selection of the best free cards and information on Greetings-Discount. Thousands of cards await you in the different categories of our card shop.