Free Place cards and Name labels
Greetings-Discount offers you to quickly and easily create table place cards for all your parties, dinners or receptions. Whether it's a wedding, a birthday, a baptism, a communion or any other event, you'll find customizable ans name labels on Greetings-Discount.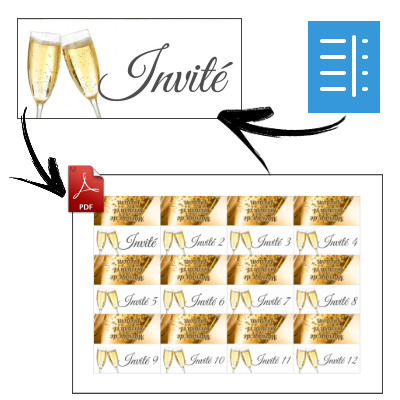 Cads place are a simple and practical solution to optimize the organization and conduct of your events. You will make a good impression on your guests, and you will avoid organisational problems. In addition, the name labels will decorate your tables in an elegant and personalized way thanks to the customization options and the many s on offer.
An easy creation
It's never been easier to create your name tags.

1. You select a from our hundreds of cards place.

2. You enter the guest list, as well as the text of your event (Weeding of first names of the bride and groom, birthday of first name,....).

3. That's it!

Our app will create an Letter US document (or A4), with a table label on behalf of each of your guests.

All you have to do is cut, and fold, your table card places.
Example of achievement
Below is an example of a table place cards for a wedding made with the Greetings-Discount app. The guest list was entered on the app, and our system created an Letter US PDF file containing all name labels. You will also have the opportunity to download each label individually in JPEG format, in the quality you have chosen.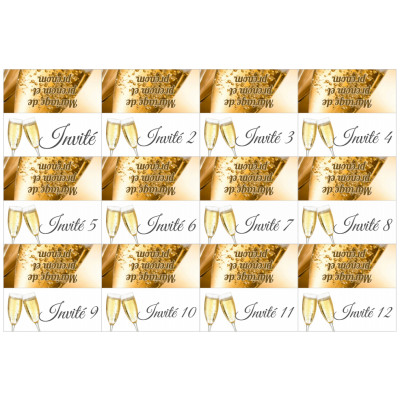 Price of Place Cards
We use a credit system to save you money. Thanks to this system, we can offer you a credit starting at only $0.5(*).

The cost of your composition depends on the quality chosen. For example for an eco quality plus (100 Dpi) the cost is 1 credit. For a better readability of your labels, we advise you to take at least the standard quality (200 dpi) or premium (300 dpi). Premium quality costs only 3 credits. This cost is valid for the first page of your PDF document, which is 12 seat labels. Then, for each additional page, the additional cost will only be one credit, regardless of the quality chosen.

For example, if you want to make 60 place cards for your wedding, our app will create a 5-page PDF for you. The cost, for this example, will then be:

- In eco-plus quality (100 dpi): 1 credit for the 1st page + 4 credits for the extra pages either = 5 credits or from $2.5 (*)

- In standard quality (200 dpi) : 2 credits for the 1st page + 4 credits for the extra pages either= 6 credits or starting at $3 (*)

- In standard quality (300 dpi): 3 credits for the 1st page + 4 credits for the extra pages either =: 7 credits or starting at $3.5(*)

Find on our Princing page the cost of credits according to your payment method (CB, Paypal, Mobile).
Save your guest list
We also offer to save your guest list, so you can reuse it for another event, or send a personalized thank you card on behalf of each guest. Indeed, we offer cards where each copy is personalized with the names of your guests.

Select Mailing to see cards that are compatible with this option. All you have to do is load your list and customize your text. In addition, we offer you the possibility to email your cards to the list of your guests.

* valid with our credit packs.

Pricing plan