Send your personalized annoucement by email
You are planning a wedding soon and you are looking for a quick and easy way to send your invitations. Greetings-Discount offers you the creation of personalized annoucements with your own texts and photos. In addition to being able to download your composition, our app also offers you to send them by email via a virtual card.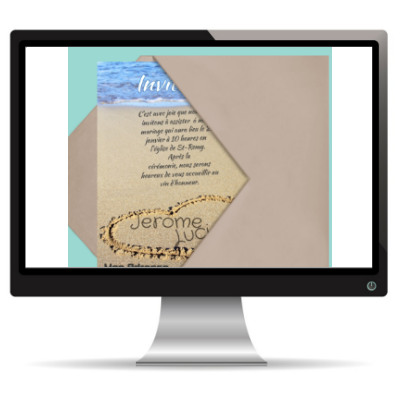 An animation of your annoucement
Our solution allows you to send your wedding, baptism, birth or communion annoucement directly to your guests by email. Your guests will receive a link to view, on our website, a beautiful animation of your invitation coming out of his envelope.

In addition, your guests will be able to download their invitation or share it to print it to keep it as a reminder.

We also offer you to customize the animation of your virtual card by the ability to choose the color of the envelope as well as the wallpaper of your birthday invitation.
Manage confirmations of attendances
As an option, we offer you the option of asking your guests to confirm or not their presence. You will then have access to a summary of the responses received, as well as unopened email.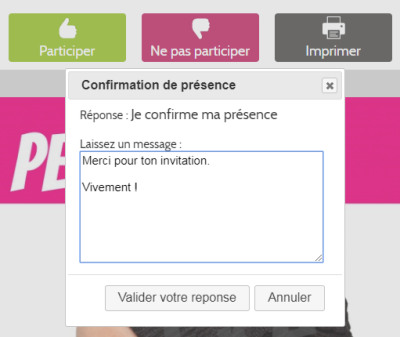 Easy and fast
Greeting-Discount has been created to allow you to design annoucements as simply as possible. With this in mind, we offer you the simplest possible solution for sending your invitations. Simply fill in a table with the names and email addresses of your guests. You will have the choice of the date of sending your wedding invitations by email.

The confirmations of presence will be checked on the same page and in the blink of an eye you will know the number of guests present.
A personalized invitation with name of each guest
Our service allows you, thanks to our mailing option, to customize each invitation with the name of your guests. This option will allow you to send a personal invitation easily and quickly. This invitation will have its effect!

Among our various birthday invitations, filter the results by selecting the "Mailing" option. Then you will see the list of invitations offering this option. You will have to enter the first name of each of your guests at the place provided for the personalization of your invitation.

Once you've validated your order, don't forget to select the "send via a virtual card" option, so you'll find your guest list in your virtual card's management screen.

All you have to do is enter the email address of the guests.
How to use it
After customising your invitation with your own texts and photos, you will be asked to select a print quality. We offer 3 printing qualities in order to adapt to your budget.

In your card options, click 'Send via a virtual card'. You will then be able to choose the number of recipients of your card. If you want to request a confirmation of attendance at your party, click on the 'Ask for a Presence Confirmation' box.

We also offer you to customize the animation of your virtual card with the ability to choose the color of the envelope as well as the background of the screen of your invitation.

Beware this option is not available with free print quality, eco quality (72 dpi).
Pricing
Greetings-Discount uses a credit system. You can get it from $0.5 per credit.
Sending to the first recipient is free. Then the cost is 1 credit per 5 recipients.
The presence confirmation option costs 1 credit, regardless of the number of recipients.
For example, a shipment to 11 guests in eco-quality plus (100 dpi) costs you only 3 credits (or from $1.5*)
* valid with our credit packs.
Pricing plan