Greetings-Discount now offers you to find all the cards, annoucements, menu, table place label and labels directly on your smartphone and tablet. Find the entire Greetings-Discount catalog on Android or IOS, with more than 3000 s. And still our thousands of free cards.
The
Android
app is available here:
Android Greetings-Discount app
The IOS app is available here:
IOS Greetings-Discount app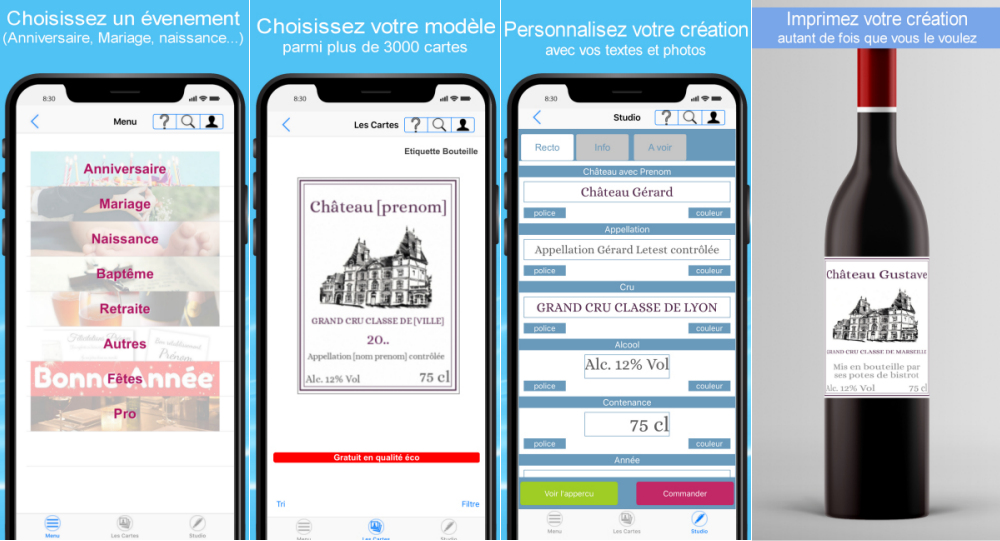 Easier creation on smartphones and tablets
The app will allow you to quickly and easily create a card and download it directly to your smartphone and print it on a Wi-Fi or bluetooth printer, or via a photo kiosk. It will take you less than 2 minutes to create a nice card or annoucement.
The interface of the Greetings-Discount app has been designed for easier grip. You don't need knowledge of photo software for use it. You select a template, edit preset photos and text, and download your creation. Simply.
As on the website, Greetings-Discount offers you to download your card in PDF and JPEG format. You have the choice of resolution from 300 dpi to 72 dpi (for free cards).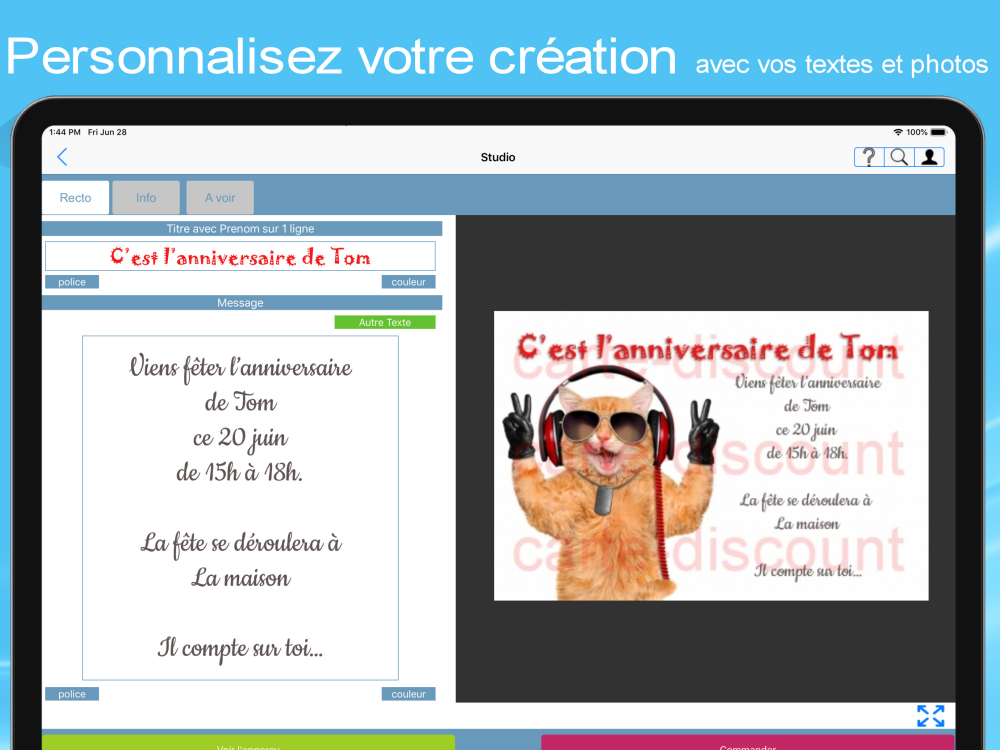 From only €0.5
We integrate, in-app purchases that will allow you to use your Google Play or Apple account, to pay for your card. The price depending on the quality chosen and the size of the card, the detail of the price will be provided to you in the application. We offer you to pay less for your card with our credit packs. So you can get cards starting at just $0.5!
Credit packs are valid without a time limit and are also valid on the website.
Your Greetings-Card account on your smartphone
The app is connected to the Greetings-Discount website. So you can pick up all your creations directly on your smartphone or on the Greetings-Discount website. Your cards and invitations follow you everywhere.
It's easy to get them printed on photo kiosk with your smartphone.
A huge choice
Our free Greetings-Discount app will allow you to make cards and make-parts for many occasions such as:
Invitation to a birthday template
Printable Birthday card
Birthday bottle labels template
Birthday menu to print
Annoucement Wedding and Invitation
Wedding felicitation card
Wedding thank you card to print
Wedding menu to print
Table place labels for a wedding
Bottle label for a wedding
Baby Birth
Thank you card for a birth template
Congratulatory card for a birth to print
Baptism, communion, confirmation invitation
Invitation for retirement template
Good Retirement Greeting Card
Bottle label for a retiree template
Mother's Day Card
Father's Day Card
Valentine's Day Card
New Year's Greeting Card
Christmas greeting card to print
Death Announcement Templates
Funeral Thank You Cards
Condolence Card to Print
Bottle label template
Table place label to print
Jam label template
But also a pro section:
Invitation for an Inauguration template
Table place label professional to print
Flyers templates
Price list to print
Window times to print
Gift card
Restaurant menus templates