Personalized birthday invitations via email
Greetings-Discount offers you to e-mail your personalized invitations for your birthday parties, but also all other invitation cards or wishes available on the site (retirement party, greeting cards, etc.).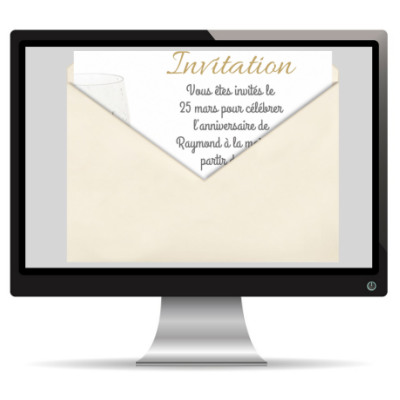 Economic
To save you time (and stamp money), we have developed a service to send your birthday invitations or other parties by email. This service will allow you to notify your guests via a nice virtual card animation. In addition, they will have the opportunity to print their invitation directly at home.
Easy and fast
Sending a mailing of personalized invitations has never been easier. You select a birthday invitation from our hundreds of available s, whether for children or adults.




After customising your invitation with your own texts and photos, you will be asked to select a print quality. We offer 3 printing qualities according to your budget.

In your card options, click 'Send via a virtual card'. You will then be able to choose the number of recipients of your card. If you want to request a confirmation of attendance at your party, click on the 'Ask for a Presence Confirmation' box.

You can also customize the animation of your virtual card by choosing the color of the envelope as well as the background of the screen of your birthday invitation. Beware this option is not available with free print quality, eco quality (72 dpi).

Once your order has been validated, you will then be able to prepare the sending of your virtual birthday invitation card. All you need to do is fill in the names and email addresses of your guests. Our app will then send your guests an email with a link to view their invitation.

Guests will have the opportunity to download a ready-to-print PDF file, in the quality you have chosen previously. This will allow them to keep their invitation, printed or saved in a file.
Ask for confirmation of presence
You can ask the guest at your birthday party to confirm their presence after receiving their invitation. On the page of viewing his animated invitation card, in addition to the possibility to download the invitation, a button will ask him to confirm his presence. They can also leave you a message.
In the management screen of your virtual birthday invitations, the invitation board will update in real time, with the responses received. You will also be able to see emails that have not been opened or not received.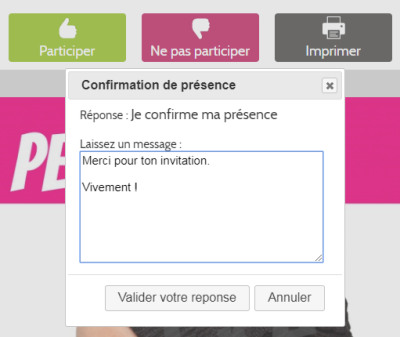 A personalized invitation with name of each guest
Our service allows you, thanks to our mailing option, to customize each invitation with the name of your guests. This option will allow you to send a personal invitation easily and quickly. This invitation will have its effect!

Among our various birthday invitations, filter the results by selecting the "Mailing" option. Then you will see the list of invitations offering this option. You will have to enter the first name of each of your guests at the place provided for the personalization of your invitation.

Once you've validated your order, don't forget to select the "send via a virtual card" option, so you'll find your guest list in your virtual card's management screen.

All you have to do is enter the email address of the guests.
Pricing
Greetings-Discount uses a credit system. You can get it from $0.5 (*) per credit.
Sending to the first recipient is free. Then the cost is 1 credit per 5 recipients.
The presence confirmation option costs 1 credit, regardless of the number of recipients.
For example, a shipment to 11 guests in eco-quality plus (100 dpi) costs you only 3 credits (or from $1.5*)
* valid with our credit packs.
Pricing plan