How to make free birthday cards on your phone?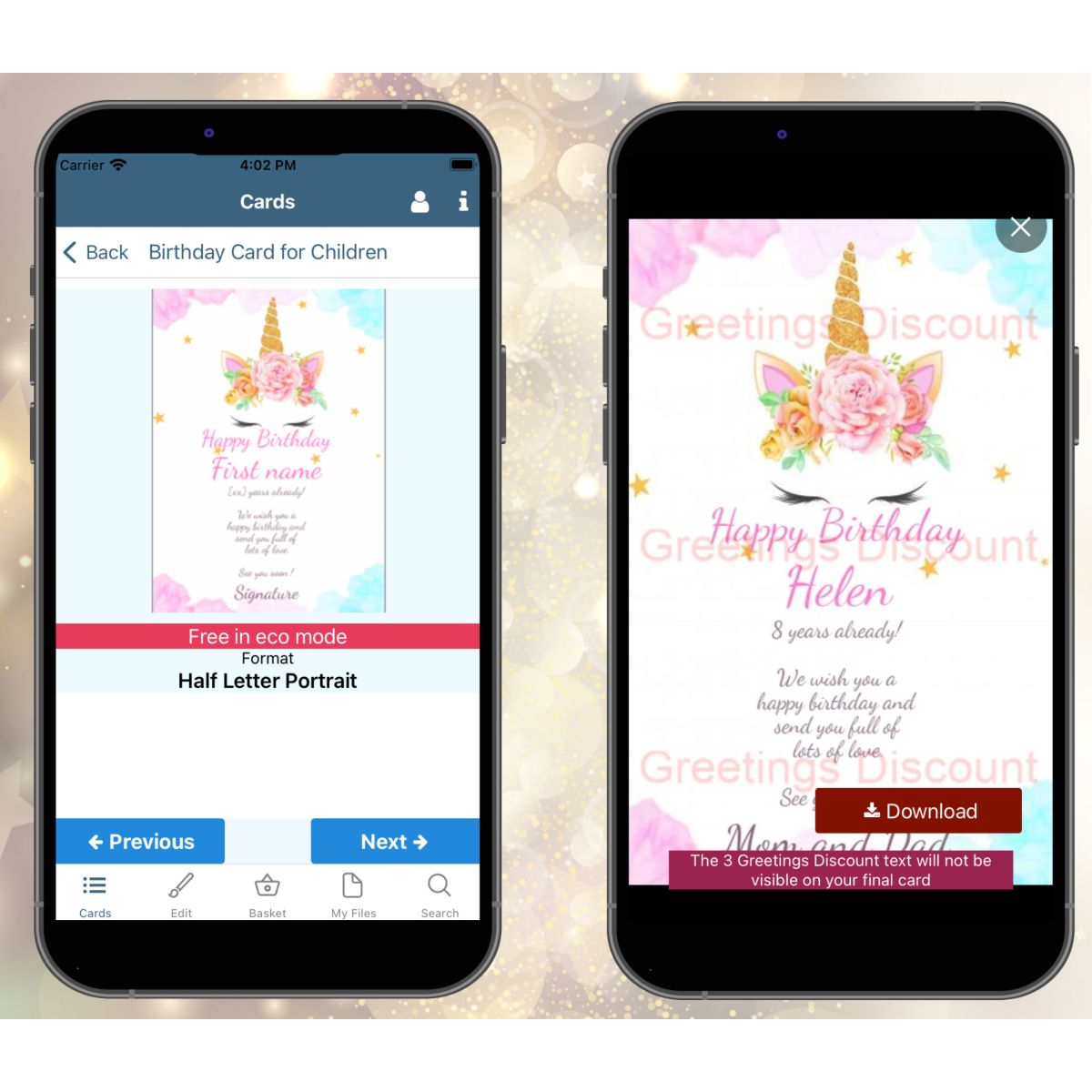 On your birthday, it's always nice to receive a little card. Want to celebrate it? Why not print a birthday invitation or send it by SMS, Facebook or email?
The Greetings-Discount application allows you to create birthday cards and invitations quickly and easily. Many templates are free.
The card is done very quickly, in just a few seconds, and you can send it to the recipients directly by Facebook, SMS or email. You can also print it to give it directly in person.
The Greetings-Discount application
Available for free on IOS and Android, the application offers you the creation of cards very easily; first select the theme you are looking for: birthday card, birthday invitation, for kids, humorous, by age.... 
Once you've chosen a category, you'll discover a lot of available templates, some of which are free.
Customize your cards by changing the text and photos and preview your card. If you like it, click on Download.
Please note that the three words "Greetings-Discount" present on the preview of your card will not be present on the finalized card. 
4 printing qualities including 1 free
Once you have personalized your birthday card, you will have the choice between 4 printing qualities. Eco and Eco plus are the basic qualities. Useful for sharing your card on a small screen, such as a smartphone. Please note that a "Greetings-Discount" watermark will be present on the card in the free Eco quality.  
The standard and premium qualities offer you a high quality card, very appreciable if you want to print your card. If you wish to have your card printed by a printer or a copyist, choose the Premium format, which offers a resolution of 300 DPI.
Available on IOS and Android
The Greetings-Discount application is available on Apple smartphones and tablets, and also on all Android devices.
More info on the Greetings Discount application on IOS
More info on the Greetings Discount application on Android
All the birthday cards available in the mobile application are also available on the Greetings-Discount website.