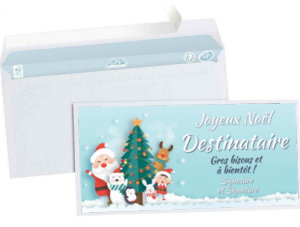 Greetings-Discount offers you a selection of image to decorate your Christmas envelopes. Customize and print these images on white envelopes number 10 ( 4-1/8x9-1/2 envelopes). Decorate your envelopes to offer as a Christmas gift with a bank check, ticket, voucher or simply cash. Once customized, download a PDF file and an image file that you can print at home as many times as you like.
We offer you a module to easily and quickly create an envelope with the first name of each of the recipients of the gift. Thanks to our Mailing option, simply enter the different first names in a table and our application will automatically generate a personalized image for each recipient.
Find below all our image models to decorate your envelopes for a Christmas gift. Many free templates to print.